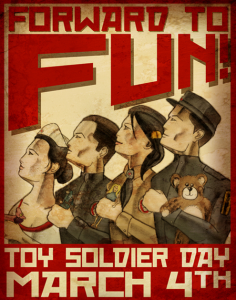 Greetings Mountain Soldiers!
Today is the closest we have to a national holiday in the Army of Toy Soldiers. Like Star Wars Day or Pi (or Tau) Day, ours is a pun on the date, but is also our call to action. March Fourth, Toy Soldiers!
But what do you do to celebrate Toy Soldier Day? Why, anything that actively spreads fun!
Bake cupcakes for your co-workers!
Do a dance routine in the park!
Protest the lack of recess at your university!
Host a party for all your friends!
Invade a theme-park in uniform with your local division!
Go watch a fun movie with your room-mates (I suggest something with giant robots in it!)
Travel cross-country to invade another division's invasion!
But most of all, make Fun the Top Priority, because after all, Utopia Comes with Toys! When it's all said and done, please share your adventures on TSU, in the Division Thread.
ONWARD!