Representatives of the Seventh Regiment will be joining their comrades from the 301st Desert Fox Division, the 487th North Texas Division, the 888888th St Louis Crazy Eight Division and the DSTEAM Special Operations Group at A-Kon 20 in Downtown Dallas, Texas. This happens to be the 20th annual running of the largest animation and Japanese culture convention in north Texas, and this years' show looks to be twenty years in the making. Join Soldiers Danny, Hillari, Arcko, Unit 112, Mr. Chicken, Clockwork Hart, Coyote, Enyo, and Cap'n Matt; as well as YellowJackets Dash and Geoff for a three-day marathon of Japanese animation and culture, culminating in the tradtional Toy Soldier March on Saturday evening (stay tuned).
Other planned activities are propagandising the gaming tables, the registration lines, the event and autograph lines, as well as the Steampunk Ball Friday night. News Post here; Planning Thread here.
(Stay tuned for a special surprise!)
The surprises, kept under wraps until the unveiling of the Program book Thursday afternoon is this: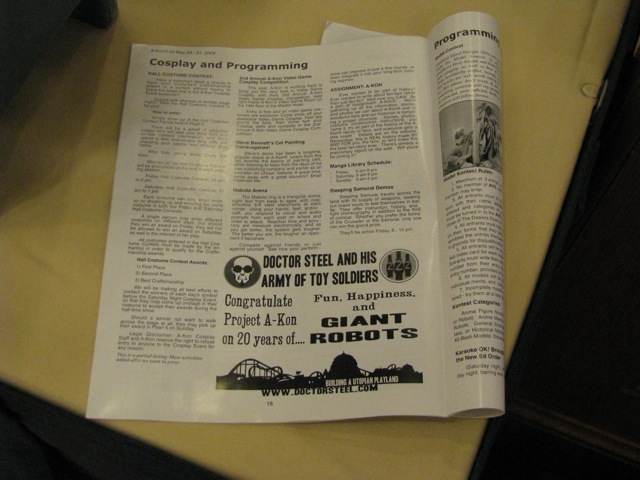 And thanks to the perserverence of Kon MVP and Decadent King of Space, Unit 112, there were one thousand propaganda DVDs available for the consumption of the masses.


Congratulations, one and all. Fantastic Show!